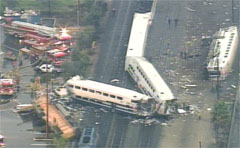 Metrolink Trains Derail In Southern California
Wednesday, Jan 26, 2005, 06:03 A.M.
http://www.trainweb.com/derailments/2005a26a.html
Information posted at www.MetrolinkTrains.com:
Information for Family Members – 877-883-0364
Metrolink Call Center – 800-371-LINK
Glendale Community Hotline – 818-548-6464
Passengers have been transported to the Community Room at Glendale Police Department located at 131 N. Isabel Street in Glendale. Families looking for riders should go to this location.
CLICK HERE
for continuing updates on this story from "Yahoo! News".
CLICK HERE
for photos of recent derailments from "Yahoo!".
Photos and stories of previous Metrolink derailments:

Please check back later for further developments.
Click here for information and photos of other train derailments.
Time to abandon the soda can analogy of collisions with trains?